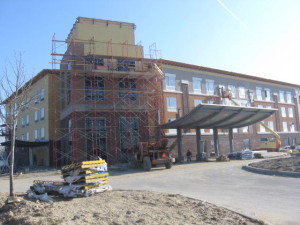 Is your commercial Building Energy Efficient?
There are many places within a building that is susceptible to energy loss. Below are some key points to keeping your commercial property energy efficient!
HVAC units. A  HVAC (heating and cooling) system is usually one of a building's largest energy users. 30% of the energy used in a commercial or industrial building is consumed through the HVAC system. One of the most common energy losses are through old or outdated equipment that is not operating properly.  It is estimated that 33 percent of all heating and cooling energy is wasted at leaking duct work joints due to leaks. Your Commercial Building Inspector (National Building Inspections) can check to see if the unit that is operating is sized properly to fit the needs of the building, operating with sufficient air flow and whether or not it is beyond the design life.
The building envelope. A building envelope is the physical separator between the conditioned and unconditioned environment of a building including the resistance to air, water, heat,

 

light, and noise

 

transfer.

Roof.

Make sure the roof or attic area has adequate insulation. Penetrations through the roof, if not sealed properly, can enable conditioned air to escape and allow moisture into the building. If roof insulation gets wet, then the insulation value is greatly reduced and more energy is lost. In addition, any insulation that gets wet has a potential to grow mold and this can be toxic. 

Doors and Windows: Doors and windows should fit properly and have weather-stripping installed to minimize conditioned air to escape. All wall penetrations, including door and window frames, should be sealed where the frame meets the exterior wall surface in order to minimize air loss. All doors and windows should be installed or replaced that meet Energy Star Guidelines. These types of products ensure you are using a product that is both durable and energy efficient.
Walls. Having a well insulated wall will increase your energy efficiency and decrease noise pollution. The exterior of the walls are also important to be water tight but allow air to circulate though; this allows for more energy efficiency while cracking down on stagnant pollutants inside the building.

Electrical systems. Lighting accounts for 30% of energy consumption in a commercial building. By replacing or upgrading your electrical systems such as electrical panels, meters and light bulbs, you can greatly reduce your costs used for electricity.

Office equipment is one of the fastest-growing electricity uses in commercial buildings in the United States. It directly consumes 7% of total commercial electric energy, which translates into $1.8 billion in electricity costs to businesses. Furthermore, energy consumption due to office equipment and related energy systems is expected to continue to rise. By choosing energy-efficient equipment, purchasers can save a substantial amount on their office equipment electricity bill.
By reducing the amount of energy used in a building, the cost to operate the building is reduced. Moreover, many energy-efficient upgrades can pay for themselves over time. Call National Building Inspections to inspect your commercial building; our inspectors will be able to report any items that are failing, need replacement or not energy efficient www.nbiteam.com 866-665-6022.