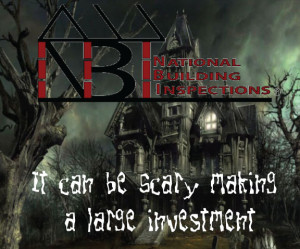 It can be SCARY making a large Investment
National Building Inspections has spent years perfecting their craft to become your trusted inspection company so that when you purchase a commercial or industrial building, there are no scary surprises.
The biggest horror you may find, is the stress that you encounter when investing in such a large property.
Below are the haunting realities that come with any inspections.
Exterior of the property
With any inspection, NBI will inspect the entire property to make sure it is maintained and up to date on all major items. We inspect;  structure, lots and grounds, parking lot and walkways, grading, lights, walls, windows, doors and more. We also inspect the roof for any damage, proper installation and longevity of the materials used.
Interior of the Building
The interior of the building is also a very important part of the inspection. All major mechanicals, plumbing, electrical and construction of the building are all part of our interior report. The interior of the roof is inspected (infrared camera) for interior leaks as well as all walls and ceiling materials. we use a moisture meter to ensure that there are no leaks or water infiltration at the time of the inspection. Doors and windows are tested to make sure they are in working order.
Report
Our Due Diligence reports are both comprehensive and informative. The narrative of these reports explains all major components of the building you are investing in as well all major deficiencies. We also provide a cost analysis of what it will take to repair or replace these items. This report can enable you to negotiate a better price for your purchase or have an complete understanding of what additional investment you will need to make to replace or repair all deficiencies listed.
National Building Inspections is committed to providing you with the tools you will need to protect your investment. This process does not need to be scary, when you hire NBI. We will give you the peace of mind you need and deserve. Call us today!
-Kristin Butcher